THE BLOG
& VERSION 5.0




a new blogskin layout was fulfilled.



mengcong90@blogspot.com
Welcome to http://mengcong90.blogspot.com/
This is mengcong's blog.
Excusal for weak languages.
© 2007-2010 Mengcong. All Rights Reserved.


Email: mengcong_90@hotmail.com



ABOUT ME
Chong Meng Cong, Male, Single.
Nine-teen, 19,
10 August 1990, Leo.
TAR College, Main Campus at Kuala Lumpur.
Diploma in Mass Communication,
(Advertising Year 2).
My passion, Singing & photography.
Mathematics and Designing.


THE FLICKR
THE WISHLIST
PERMANENT

Families, relatives, cousins, friends, her,
to be safe and healthy everydays and forever,
lives in perpetual happiness.
Improved all my Skills to be more better.
Accountant, Artist, Designer or Photographer.
Got desirable results for all my exam.
New Clothes, Shirts, Trousers, shorts, Shoes.
My wishlists all became true.
World Peace.


IMPERMANENT

ADIDAS Designed White with Black Sport Shoes.
Gym and Get Fits.
IPOD or MPX or Play Station X.
Krazee Duck T-Shirt-iGYA, Project Elementz.
Learned briefly for Music Instrument.
Learned details for Music Instrument.
Meet Favorite Singer, Angela Zhang.
Meet Favorite Singer, Fish Leong.
Meet Favorite Singer, Wilber Pan.
New Side-Bag (Stussy SS'09).
New Technical Skills.
New Hairstyle, maybe DYED? (light-brown)
NIKE Designed Grey with Blue Sport Shoes.
NIKE Designed White with Black Sport Shoes.
NIKE Dunk SB Low.
NIKE SPORTWEAR, NSW Standard Tee.
NIKON D60 Digital Single-Lens Reflex Camera.
Own Acer, Aspire Laptop.
RAM upgraded to 2GB for my ACER Laptop.
RECOIL Polos (Line).
Second Semester got higher CGPS.
SONY Digital Camera.
Sony Ericsson G900i Handphone.
SPM ALL Subjects PASSED.
Taller more 10cm.
Third Semester got desirable CGPS.


THE ARCHIVES
THE HIGHLIGHTS
Course Ended: Langkawi Trip 2010 Part 1: Introduction Part 2: Tps & Black Sand Beach NEW! Part 3: MPV Car Rental and Hotel NEW! Part 4: Oriental Village Cable Car Part 5: Thailand's Food My Astro Music Awards Part 1: Introduction Part 2: Ticket Redemption Part 3: Prior to the Event Part 4: The Actual Red Carpet Part 5: Music Awards Presentation Part 6: After Awards Ceremony PENDING... Genting Trip with Myfm B'day Bash. Part I: Genting Bus and Skyway. Part II: Outdoor Theme Park Activities 1. Part III: Outdoor Theme Park Activities 2. Part IV: Dinner Plates. Part V: Myfm 11th Birthday Bash. Part VI: After Myfm 11th Birthday Bash.
THE LABELS
Birthday Related Entertainment Genting Trip My Astro Music Awards
THE TAG
& the 14 latest posts.

& Chinatown C.N.Y. Celebration 08, 19Jan. & Chinese New Year 08, 07Feb. & Pencapaian Pelajar Cemerlang, 24Mar. & W.Z.L Dance Competition 08, 13Apr. & Batu Caves Kuala Lumpur, 18May. & Adjustment To College Life, 22May. & Orientation Odyssey Night 08/09, 11jun. & Talentime Night Booth, 19jun. & Chozes Creative Arts Showcase, 20jun. & Talentime Night 2008, 06july.
THE FACEBOOK
THE WEBSITE
ADVERTISEMENT
THE TAGBOARD
Comments as come,
and thanks for your preciously feedback. (:
THE LINKS
& ♥♥♥♥♥ bibi 1 2
& ♥♥♥♥♥ carmen ★★★
& ♥♥♥♥♥ cheekit
& ♥♥♥♥♥ cheelek
& ♥♥♥♥♥ cheexiong
& ♥♥♥♥♥ chunkai 1 2
& ♥♥♥♥♥ desmond ★★★
& ♥♥♥♥♥ eemun
& ♥♥♥♥♥ e~yee
& ♥♥♥♥♥ esther
& ♥♥♥♥♥ hailing
& ♥♥♥♥♥ hannyaw 1 2
& ♥♥♥♥♥ huayching ★★★
& ♥♥♥♥♥ huaysze 1 2 ★★★
& ♥♥♥♥♥ huileng
& ♥♥♥♥♥ jessica
& ♥♥♥♥♥ jiaxin
& ♥♥♥♥♥ joe
& ♥♥♥♥♥ joel
& ♥♥♥♥♥ june ★★
& ♥♥♥♥♥ kaichin ★★
& ♥♥♥♥♥ karchun 1 2 ★★
& ♥♥♥♥♥ kawee
& ♥♥♥♥♥ kimberly
& ♥♥♥♥♥ kimjong
& ♥♥♥♥♥ kimz 1 2
& ♥♥♥♥♥ leysee
& ♥♥♥♥♥ mujaja
& ♥♥♥♥♥ noslenwohc
& ♥♥♥♥♥ sayli 1 2 ★★
& ♥♥♥♥♥ sheaupey 1 2 ★★
& ♥♥♥♥♥ sheline ★★
& ♥♥♥♥♥ shuwen ★
& ♥♥♥♥♥ shyun
& ♥♥♥♥♥ sillychee
& ♥♥♥♥♥ snowdrops2
& ♥♥♥♥♥ stella 1 2 ★
& ♥♥♥♥♥ tarzan
& ♥♥♥♥♥ tongseng
& ♥♥♥♥♥ vyzasstan
& ♥♥♥♥♥ wanxin
& ♥♥♥♥♥ weeyang
& ♥♥♥♥♥ wenshing
& ♥♥♥♥♥ weikang 1 2
& ♥♥♥♥♥ yiphon
& ♥♥♥♥♥ yoyo
& ♥♥♥♥♥ yusan


THE GAME
Extra Funs!
Hearts for whom of you have in a number of Tag and Comments. (: New Updated on 25 Jul.
♥♥♥♥♥ as Beginner.
The number of hearts is to determine a stage (level) of the game. More hearts as more higher.
Fulfilled 3 stars to get unique links. :D


THE LIVE TRAFFIC FEED
THE TOP 12 FLAG VISITORS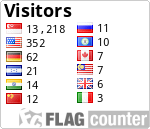 THE SONG
THE CREDITS
Monday, May 31, 2010 @ 9:23 AM
3D2N Trip, 28-30 May 2010 (Fri-Sunday)



It was an awesome Ipoh and Kuala Kangsar, Perak trip no matter how!
Had been a glorious time with my maternal relatives yeahs!
On last Friday, we move off at dawn, and spent over 9 hours plus a day to Ipoh,
My goodness! So you can imagine how far it was from Johor to Ipoh.



But the amazing landscape view thru the highway never get myself boring,
of course there must be a relaxation, accompanied with bits of music!



Everything was pretty fine but the weather were so damned unexpected hot!
I mean when we reached our destination, one of it,Kuala Kangsar,
Since when I hope for a beautiful weather to come and hold.
People over there were so friendly and I learn some new food cultures.

Somewhat a disappointment for the cancellation towards Cameron highlands.
Now I was hoping for the next trip coming and then a next R and R!
At same time, never forget to send a congratulation to my cousin for get married!
Wishing you a fullest of happiness in your life and have a blissful honeymoon! ;)

This trip was outright disarmed me when I were in a thoughtful bad mood,
be more optimistic man cheer up ;) See ya readers have a nice day.

Stay tune. more will be upload, perh.
Thursday, May 27, 2010 @ 12:00 AM
"Approach between purpose and purposeless."


I just appreciate the another 'darkside' in the meaning of 'friendship'..!
p/s: the sentense weren't direct to anyone of my friends.
It's learnt since when I read thru a blog which real voicing from his experience,
and the blogger whom were really enlighten me well sial!

"Act between friendly and unfriendly."
I started thinking of it, and becoming more and more touchy serious,
somemore got proved that really discouraged me.
even thought I feel disappoint, but it at least awoke me to brace myself up.
at this moments, I notice thing between meaning and meaningless.

"Mutual understanding and trust are essential to friendship", serious true,
if you failed to do that, both aren't friend for sure!
there is a good example if you were thinking of I pointing you. haha
better make a self-examination why people post this.
"What you give as what you get, treat your friend nicely."
- AS WHAT DO UNDO OTHERS THEORY SAID.

To friend who treat me good, I must to mention that so lucky to meet you,
and thankful you, whose common well-understanding me.
To friend who treat me bad, Sorry to tell that it's sucks and I never ever!
I got my own dignity, if you know what is self-respecting!


Friendship Appreciation 2010.
Labels: Shots of Myself
Langkawi Island Trip Review
Wednesday, May 26, 2010 @ 12:48 AM
Labels: Langkawi Trip
Langkawi Island Trip Part 2
Tuesday, May 25, 2010 @ 12:11 AM
Course-Completed Trip @ Langkawi Island..!
PART 02: DAY1 - Tps & Black Sand Beach
So, finally I can now getting some times to sit down and blog about this trip!
somehow I'm only managed to blog for the part 2 presently, haha
alright, we caught up each other altogether went to our transportations.
it takes half a dozen hours arrived to Kuala Kedah and forty mins on ferrying!

Anyhow since it's course trip, I was hoping more people would entertained,
but at the end only se7en went, it was quite a disappointment right.
however I'm so remembered a voice from Chou Sheline to defeats all bad mood!
after arrived, first rented a MPV and then check-in at Bayview Hotel.
The counter where to paid for our transportation, and get the ferry tickets.
Don't forget to take photo for blog.. while actually sleepy to do so. haha
Ferrying from Kuala Kedah to Langkawi ferry terminal by Lambaian - 1.
quite excited we're soon get started for our Langkawi Trip after this ferry!
At this moment, let's taking a rest to gather up energy for coming schedule!
Waited at ferry terminal station after ferried to Langkawi Island from Kuala Kedah.
First exposition to the place of interest - Langkawi's black sand beach!
Samantha were so excited to get in touch with the nature the blue sea!
Photo taking session at the first Langkawi's Black Sand Beach - Samantha.
Sam's in this picture looks so emotions!
Si-baka-kina fish leaped out of seawater and landed on the black sand beach..!
In this photo we can see, cheekit never forget to take picture with this rare fish!
Cheekit and Si-baka-kina fish (nickname're getting longer by each time)!
Photo taking session at the first Langkawi's Black Sand Beach - cheekit.
Photo taking session at the first Langkawi's Black Sand Beach - that's me.
Photo taking session at the first Langkawi's Black Sand Beach - me again.
there're our first exposition where all of us were curious about the black sand..
Tracking the footprints in the black sand!
Photo taking session at the first Langkawi's Black Sand Beach - Part A!
Photo taking session at the first Langkawi's Black Sand Beach - Part B!
Labels: Langkawi Trip
Langkawi Island Trip Part 1
Monday, May 24, 2010 @ 3:48 AM
Course-Completed Trip @ Langkawi Island..!
Our course-end trip was actually first planned since long time ago,
we kept on discussing where we wanted to go whenever leisure time came,
and the destinations where were even exaggerated to oversea!
it's impossible at this time while our final decision were to - Pulau Langkawi.

time really approached by so quickly and finally, we completed our diploma,
the said trip was scheduled started from 05 to 07 of the May,
it's a 3D2N-trip where finale organized by Sibaka-fish, Chou Sheline! :D
all pictures weren't really completed gather right today, anyhow..

Labels: Langkawi Trip
Part I: Introduction
Thursday, May 13, 2010 @ 2:00 AM
My fm Astro Music Awards @ Genting Highland..!
At the beginning I actually didn't expecting I would attending to this huge event,
since at all I was unaware of this event
until I cognized it through facebook,
it can be declared that facebook's really a good way for create affair's awareness! lol.
furthermore we're in the middle of final exam of the substantial period, etc.
Maybe it considered incovenience where the event held so far, if we wanted to go.
but when I first exposing to the wallpost stated about this awards,
I was first thinking of a friend who might possibly going for some reasons.. lol.
we started our conversation and surprisingly get some tickets from him.
Labels: My Astro Music Awards
Part 2: Ticket Redemption
@ 1:34 AM
My fm Astro Music Awards @ Genting Highland..!
Until now I'm still remembered
, "don't wasted the tickets, it isn't easy to get."
haha.
kindnesses, and I started to request more people to join.
as I just mentioned, so many people conscious on their coming exam,
so as a result, only a few of us willing to join for this trip.
We travelled by LRT to Gombak Station exchanged to Taxi going up to hill.
first step were going to redeem our actual entrance tickets,
feelings fresh where we can again tactile the cooling air on top of the mountain.
there was a crowded of people fall in line queue in front of the counter.
Labels: My Astro Music Awards
Part 3: Prior to the Event
@ 1:30 AM
My fm Astro Music Awards @ Genting Highland..!
PART 3 Prior to the Event
Alright, we're curious about how's the red carpet look like after the redemption.
so that, we went to have a look rather than stay nothing to do! lol.
Okay, were a shock that the said red carpet wasn't expected to be RED! haha,
so funny, "Who said redcarpet must be 'red'?" - according to the hosts.
Realizing the burget weren't more enough from the outward appearance look,
but it's okay as this was their first year, something can be
improved,
I'm happy for an opportunity to look how people run a live by attending this event.
and we have our delicious lunch at ---- Oldtown White Coffee. lol.
Labels: My Astro Music Awards